Price the whole ducting job
[ Up ] [ DuctMate ] [ QuickDuct ] [ DuctView ] [ Duct fittings ] [ VentNet ] [ Silencer ] [ DuctPrice ]
When you price a tender document, one way or the other you will have to calculate the installed price of the ducting. Some people may use average rates based on cost/kg or cost per area but these methods are inaccurate since they don't account for flanges and special fitting labor costs. This program has some special features to takes all the difficulty out of pricing ducting.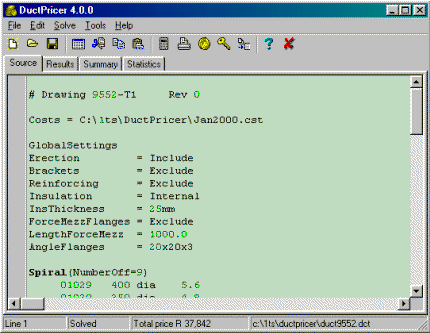 Program Features
Manage your duct pricing easily and accurately.
Price large bill of quantities and produce a detailed summary.
Print itemized report suitable for submission with tender.
Accounts for material thickness, correct duct length and off-cut rates.
Easily re-price complete project at different rates.
Produces project summary with average rates and SARACCA categories.
Now includes QuickDuct for single item pricing.
To price single duct items, take a look at our QuickDuct program.