Technical Data CD
In 2004, Bruce Wernick was commissioned by the South African Institute of Refrigeration and air Conditioning (SAIRAC) to update the Data Handbook. The handbook was originally sold to SAIRAC members in an A4 sized file and contained some of the basic information needed by designers.
At the Cooling Africa 2004 Exhibition in Cape Town, SAIRAC launched the new Technical Data Manual on a CD. This is not just a pdf version of the paper manual but a complete rewrite to take advantage of the power of the computer.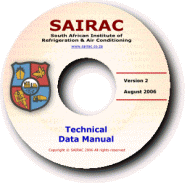 The manual has been written in the form of a disk based web site that starts with a dynamic index. This makes it very easy to find information on any topic just by clicking on the hot links.
Bruce has developed the content from the basics much like a text book. But, unlike a text book, the object is not to teach refrigeration and air conditioning. Rather it is to provide a rich source of reference material.
Some of the information is better handled by software and where appropriate, TechniSolve Software have provided a number of software programs. Some of these are: a psychrometric chart generator, refrigerant properties, wall heat transfer coefficient calculator, duct fittings loss coefficient and a world climate database.
The content covers a broad range of subjects such as:
Absorption Refrigeration, Acoustics, Air Curtains, Air Distribution, Air Filtration, Air Handling Units, Airconditioning Systems, Ammonia, Basic Psychrometry, Chemistry, Climate, Cold Rooms, Comfort Conditions, Compressors, Copper, Design Data, Direct Contact Cooling, Duct Systems, Electric Motors, Electrics and Controls, Environmental Protection, Evaporative Condensers, Fault Finding, Food, Heat Pump Design, Heat Recovery, Heat Transfer, Heating and Cooling Coils, Instruments, Insulation, Math, Moisture Transfer, Noise and Vibration, Power Supplies, Refrigerant Controls, Refrigerants, Refrigeration, Rules Of Thumb, Secondary Coolants, Silencer Design, Solar Radiation, Standards, Steel Pipe, Thermodynamics, Time Zones, Units, Ventilation, Vibration, Water Pipe Systems, Water Properties, Water Treatment and Welding...
At the August 2006 AGM, SAIRAC released version 2 of the technical data CD. This version includes many new features. There is a new navigation system that allows you to find information quickly. TechniSolve have also made some improvements to the software and added a number of new chapters.
Bruce has completed version 3.0.1.0 which was release in 2011 and is currently gathering information for version 4. If you have any ideas or would like to make a suggestion, send me an email.
see the SAIRAC web site for the latest price.
SAIRAC Technical Data CD