Geoff Alder "Heat Energy and Refrigeration"
Published by the author G C Alder, 2004, ISBN 0-620-31033-2.
Geoff Alder has written an excellent book that covers practical aspects of refrigeration. Things that you won't find in the normal textbook. Geoff has many years of experience in our industry are speaks with knowledge in these areas.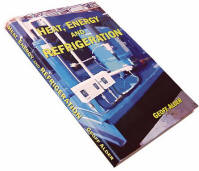 If you read the South African HVAC journals, you will see that Geoff is a regular contributor. His style is easy to read and he approaches the theory from an understanding of the fundamentals rather than the equations.
For under USD $69, you will never find a better reference.
Order your copy directly from Geoff.