Tecnifan, PO Box 3124
Honeydew, 2040, South Africa
tel: (011) 794-5706, fax: (011) 794-5020

[ Up ]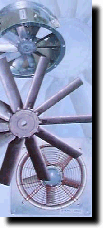 The FanSelect program was developed by TechniSolve Software to provide customers with tools to do reliable and consistent fan selections for all applications. We are continuing to improve all our products and this is no exception. As updates are made, the latest release will be available for download here.
This program covers the TFA and TFQ range of fans. That is the tube axial and plate axial configurations. These fans are used widely by the airconditioning and ventilation industry for all low pressure applications. The plate axial is commonly used in condensing units. The tube axial is an ideal fan for low pressure ventilation and extraction installations found in the air conditioning industry.
Fan curve data has been generated from original CSIR test measurements to ensure that you get the best accuracy at all times. These measured data point have been digitized to allow fast and accurate interpolation between the point with minimum effort.
The program can be obtained directly from Tecnifan.
Program Description
The program is simple to operate. You enter design airflow and external static pressure and the program finds all the fans in the catalog that meet your criteria. You can then decide which of the fans to use by moving the selector and the curve is automatically updated.
After you have decided which fan to use, the details page will give complete fan curve, sound levels, schematics and motor details.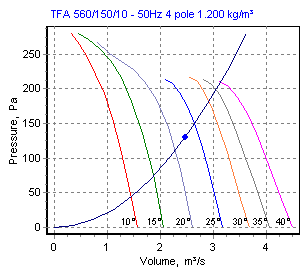 To make the program more useful, we have provided some commonly used tools. Some of these tools are based on detailed programs in their own right. To find more information follow the links.
Special Offer
If you use the FanSelect computer program, you are entitled to receive a free DutyCalc program from TechniSolve software. Just go to the TechniSolve web site and register for your free copy now.

Other Software
Psychrometric Chart. All airconditioning calculations are affected by the state of moist air. In fan applications, the property of interest is the air density. This program calculates the true air density and has a database of World Locations for easy selection of altitude.
Duct Calculator The fan forms part of a ducting system. In order to select a fan, you must know the external static pressure. Many people use the cardboard Duct calculator supplied by some suppliers but these are limited to certain fixed conditions. This program overcomes all these limitations and reduces the effort of calculating rectangular duct dimensions.
Fan Laws. If you have details of a known diameter fan and want to estimate the motor power for a different diameter, you would apply the fan laws. This tool allows you to vary any of the more commonly used variables.
Visit the TechniSolve home page for downloads of general airconditioning software.
---
This site was created and maintained by TechniSolve Software
Last Updated 22 March 2007