Fan Coil Unit Selection Program
Last updated by BJ Wernick  PrEng, BScEng
Wednesday, September 15, 2010
[ Up ]
Now you can control your own equipment solutions, by using our latest fan coil unit selection program. The program is called Sinko FCU and was developed by TechniSolve Software.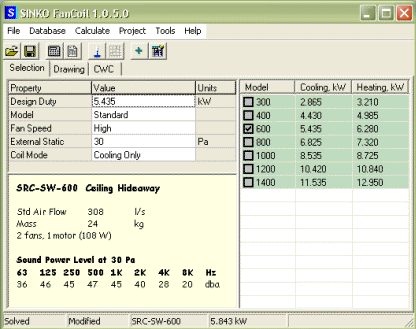 Program features:
Includes all ranges in the Sinko catalog (SRC, TCR, MEGA, SF, SFR, SC, SL and SLR).
Has options to auto select unit based on duty or select manually.
Allows for airflow adjustment for non-standard conditions.
Coil duty in the program is based on correct thermodynamic calculation.
Coil performance is automatically plotted on a psychrometric chart.
Allows selection of altitude.
Links to our world locations database for easy location selection.
Data entry includes easy graphical psychrometric input.
Includes dimensional drawings on program and report.
Allows the modification of coil parameters for special applications.
Has print preview and report customization (including your letter head with company logo)
Noise and motor data is included in the report.
Can send results directly to client by email.
Includes HTML link to complete Sinko catalog for reference.
Our program can save individual selections and has comprehensive project management.
Includes tools to calculate air mixtures and fan laws.
Has links to additional technical software tools.

You also get links to the best airconditioning design tools.
These include:
Downloaded from TechniSolve Software home page.
---
For information about the SINKO program and local sales, call Stephen Meltzer Tel: (011) 608 2003 ext 101 Fax: (011) 608 2604 Cell: 082 552 7693