Viking Manufacturing

High quality air conditioning equipment for commerce, industry and the public sector
Last updated by BJ Wernick  PrEng, BScEng
Wednesday, February 02, 2011
[ Up ]
Viking is an air-conditioning equipment manufacturer in South Africa with the following range of equipment.
Packaged roof-top air conditioning units, self contained and split type 80 to 450 kW with air-cooled, water cooled or evaporative condensers.
Horizontal and vertical type air-handling units.
Custom-built switchboards and control panels.
TechniSolve Software has developed a selection program for Viking that gives the customer much more that the usual catalog.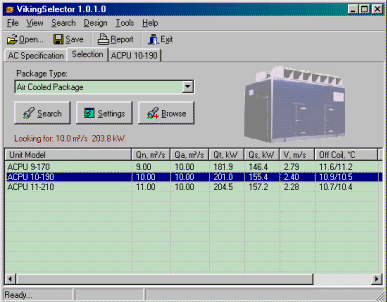 Viking Equipment Selection Program
Primarily, you will get the plant capacity at your specified conditions.
On the selection page, the program automatically finds any units that may suit you needs.
Now you can select the best unit for the job and look at the details of the unit.
Once you are satisfied with your choice, a single button will send your enquiry to Viking for a quote.
Visit the Viking home page...
---
Visit TechniSolve Software for more information and software downloads