Ecoaire
Last updated by BJ Wernick PrEng, BScEng
Thursday, August 16, 2007
[ Up ]
Ecoaire is a South African company that supplies a comprehensive range of fan coil and air handling units that are sourced from different manufacturing works. The manufacturing works do not have an electronic catalog for their products, and so TechniSolve Software were contracted to develop the software.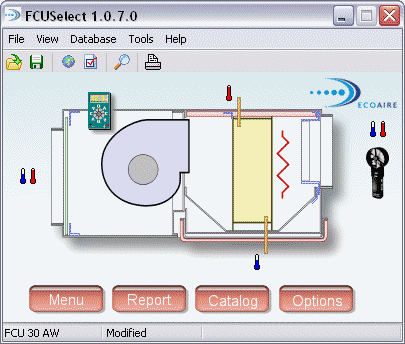 The program has a graphical interface that makes the selection of a suitable unit very easy.
From the menu, you choose a product range. Enter a specification and the program does a system balance of the catalog range.
You can also browse the complete catalog and generate a detailed report on the unit selected.
For the more technical designer, the program also gives you the facility to examine the complete design calculations of the coil and the fan curves.
Contact Ecoaire directly to try it out for yourself.
---
Visit TechniSolve Software for more information and software downloads